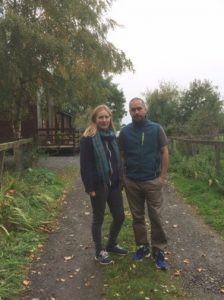 Name: Marc & Brid óg Sagarzazu
Farm Name: Downings Farm
Farm type: Sheep, organic horticulture
ABOUT THE FARM HOLDING
Downing's Farm, a third generation farm, is run by Marc and his wife Brid óg who live there with their children.  Their main enterprise is sheep and lambing is in March so spring is a very busy time. To help with the sheep there are two trained Collies – Coloma and Holly who love to work and a friendly horse called Lightning, who loves to be groomed and to be the centre of attention.  Marc and Brid óg also train pups for sheepwork.
The farm has an apple orchard and a small tree plantation which needs to be maintained. The apple harvest in Autumn is an active time, picking and preserving apples.
Organic vegetables are grown year round in the poly-tunnel.
Downing's Farm is in the GLAS scheme meaning it is actively farmed in an environmentally friendly way, preserving and promoting wildlife and enhancing the farm as a habitat.  As a result there are badgers, foxes, hedgehogs, squirrels, ravens and buzzards and a breeding pair of Long Eared Owls on the farm.
Marc has been farming in Kildare for the last 15 years. He is also a qualified Social Care Leader and manages a residential house for people with disabilities in Dublin. He has a wide experience in different aspects of social care for the last 25 years.
Bríd óg is a qualified farmer and artist. She helps with the running of the farm and teaches art locally to children and adults.  She is interested in gardening and wildlife and is a youth leader in Prosperous. She also has worked voluntarily with traveller and asylum seekers organisations.
A SOCIAL FARMING DAY
Animal care: feeding lambs, gathering sheep for different treatments, weighing lambs, feeding ewes in the winter, daily care
Grassland management: fencing, assessing grass covers, organising field rotations
Machinery: maintenance of the tractor and other farm machinery
Forestry: collecting timber in the pick-up, planting of new trees, cutting older trees
Gardening: Preparing soil, planting new seeds, weeding, and most important harvesting!
Orchard care: collecting apples in the autumn; preserving for the winter, making jams and tarts
Horse care: daily care, feeding, grooming, mucking out her stable
Rainy day activities: gardening in the poly tunnel, making bread and baking in the kitchen. As Brid og is an art teacher we also do some art or crafts
LOCAL & COMMUNITY INTERESTS
The family are involved in the youth club, horse riding, art and music and of course are Kildare Supporters!  Brid óg is a youth leader in Prosperous and has worked voluntarily with traveller and asylum seekers organisations.  She also teaches art locally to children and adults.
MY SOCIAL FARMING EXPERIENCE
"We are a working farm so the activities are 'whatever needs to be done' which keeps it all very real and gives us a chance to chat about different farming issues like shortage of silage, fattening lambs, scanning ewes, weather, issues related to trees, getting the poly-tunnel ready to grow veg etc etc..  In my opinion that is what they find interesting, the contact with real issues." – Marc Sagarzazu