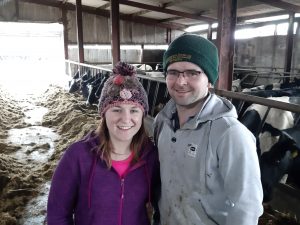 Name: Caoimhe and James Brady
Farm type: Dairy, sucklers, horticulture
ABOUT THE FARM HOLDING
Caoimhe and James run a 200 acre dairy farm, hand rearing calves, small suckler herd, a few sheep and a few hens with the two family dogs. They also have a small vegetable garden for home use.
They are a young couple with two young children living in the original family farm house that is over 100 years old. The farm has been in the family for generations with each generation trying to make more improvements. Currently they are milking approximately 100 cows, hand rearing all calves, keeping all heifers for replacements for the herd and keeping all bulls for beef.
Theirs is very much a family based farm with their parents living across the road. They always have an open door with neighbours dropping by for a chat.
A SOCIAL FARMING DAY
Animal care: milking, feeding, watering, counting and moving and caring for hens who give an occasional egg.
Horticulture: tending to the vegetable garden, potting and planting, weeding, helping to improve garden layout.
Farm Maintenance: lite tidying.
LOCAL & COMMUNITY INTERESTS
Caoimhe and James are followers of the local hurling and camogie clubs.  There is also a local DCLC which is a neighbourhood walking track only 1.5miles down the road where they enjoy taking walks.