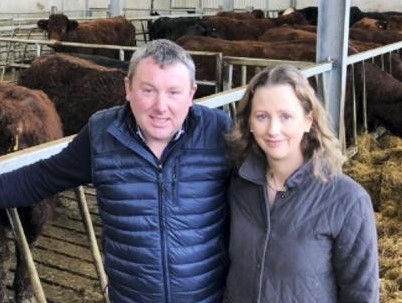 Name:
Shane & Grainne Keaveney
Farm Type:
Suckler beef, forestry
ABOUT THE FARM HOLDING
The farm consists of 70 acres of grass and 25 acres of forestry split across three blocks. The plan is to get cow numbers to 35. Forty-five acres of the farm (64%) has been reseeded over the past five years and a new slatted shed was also erected to house the suckler cows. The suckler enterprise is relatively new with Shane taking over the farm in 2014. All males are finished as under 16-month bulls with any excess females sold for breeding.
Shane is a member of Charlie Devaney's local grass group and finds the group beneficial to help manage grass on his farm. Suckler breed type are Limousin and Salers cows bred back to a Limousin and Salers bull.
Shane and Grainne use the farm as a social farming unit and regularly have visitors on the farm. "It's our way of giving something back to the community and it's also an extra little income stream for the farm."
A SOCIAL FARMING DAY
Animal care: Feeding cattle, brushing donkeys, feeding and cleaning rabbits.
Other activities: splitting timber, fencing, maintaining sheds, planting flowers
LOCAL & COMMUNITY INTERESTS
Shane is a member of Granlahan MS Board of Management he is also on the local sports committee.  Grainne is a Foroige Leader.