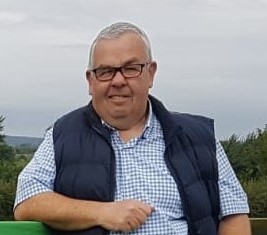 Name:
Mike O'Connell
Farm type:
Mixed smallholding
ABOUT THE FARM HOLDING
The O'Connell family is made up of Mike, Kathryn, and their four children.  Mike works part-time in the family business, Mike O'Connell's Menswear, and the other days on the farm.  Kathryn works as a teacher at Holy Family School, which caters to children with severe/moderate general learning disabilities and students with autism.
The farm is situated between Mungret and Clarina and comprises 38 acres.  The O'Connells keep pedigree cows with calves,  as well as a Connemara pony and a Welsh pony which is taken to show occasions.  There are also ewes, a ram, broilers, pigs, and hens for the family's own use.
Potatoes, onion, beetroot, cabbage, kale, and lettuce are some of the vegetables grown on the farm.
A SOCIAL FARMING DAY
Continually developing a veg plot: tending to raised beds in and out of the poly-tunnel, sowing,  feeding, watering, picking, and eating!
Daily care of farm animals: feeding, watering, grooming, and mucking.
General farm maintenance: maintaining equipment, and tending fences.
LOCAL & COMMUNITY INTERESTS
Mike is very involved in the local GAA club.
MY SOCIAL FARMING EXPERIENCE
"We believe social farming is about learning to appreciate the joy of working with nature and animals as well as helping others to be aware of where our food comes from.  One of the nicest parts of the day is the general chit-chat and easy conversation that takes place over lunch where the highlights of the weekend and news of the week are shared." – Mike O'Connell