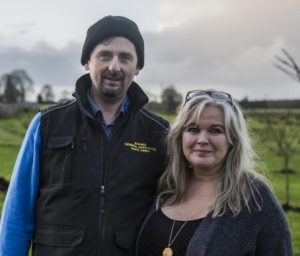 Name: Anna & Oliver Dixon
Farm Name: Ahena Organic Farm
Farm type: Organic drystock, horticulture
ABOUT THE FARM HOLDING
Anna and Oliver Dixon's Ahena Farm comprises 70 acres with 3 cattle sheds and a straw shed. Their home is on the farm with attached offices to side of house with separate entrance for Natural Therapy sessions. They have 2 children, 2 dogs and a puppy. The out-farm is 11 miles away in Scardaune, Ballyglass comprising of 60 acres, 20 of which is 17 year old commercial forestry.
Oliver is a 3rd generation farmer on the land which was converted to organics in 2010.  Oliver and Anna also work part-time with Natural Therapies from a purpose built office at the farm. Oliver is a Bio-dynamic psychotherapist, Anna is an acupuncturist, artist and teacher.
A SOCIAL FARMING DAY
Animal care: cattle herding, husbandry.
Gardening: planting, weeding, feeding watering veg and plants in poly-tunnel & outdoor raised beds, tree pruning, hedge cutting.
General maintenance: stone wall, fence painting, general farm maintenance, firewood stacking, mowing.
LOCAL & COMMUNITY INTERESTS
Oliver is keen to share his wealth of knowledge in simple farming practices and has a keen interest in world & local history; Anna is interested in artistic pursuits.