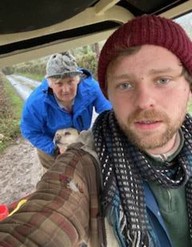 Name: Eoin Hickey
Farm Name: Ballinvalley
Farm Type: Horticulture, Sheep, Bees, Dry Stock, Forestry
About the Farm Holding
Ballinvalley Farm is a family-run enterprise with mixed livestock and horticulture. The farm is in the process of converting to organic production. The holding consists of 80 acres, 20 cows, 30 sheep, beehives, a polytunnel, and poultry. The farm is situated in south County Carlow.
A Social Farming Day
There is a wide range of activities on this farm, such as
• Feeding the animals
• Fencing
• Masonry work
• Observing the animals/herding
• Collecting eggs
And on rainy days there is a workshop for making hen houses, beehives and sheep pins
Local and Community Interest
Eoin has years of experience project management experience in food security and agriculture development. Eoin has also supported many community projects in my previous roles.
Borris is a small rural town with a lot of community initiatives such as tidy towns, mens shed, local farmers co op. It has great community spirit!