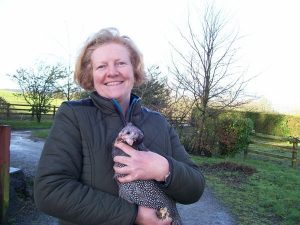 Name: Liz Ryan
Farm Name: Cherry Tree Farm
Farm Type: Sucker beef, poultry
ABOUT THE FARM HOLDING
Set within the Slieve Felim region Cherry Tree Farm has been in the Ryan family for over 200 years.  There is a beautiful river meadow walk which leads down to a stream which is surrounded by fauna and flora.
Liz and her husband Liam have a Simmental suckler herd with a Simmental Bull.  The cows calve in October and November and most calves are sold as weanlings.  They also run a poultry enterprise called Fowl & Foraged which supplies Quails and Guinea Fowl to the restaurant trade. The fowl are raised in their hatchery from eggs to chicks.
There is a stable block and sand arena where two ponies are kept, a sheep dog named Rosie and hens which supply the house with eggs.
A SOCIAL FARMING DAY
Animal care for the poultry: egg collecting and feeding chicks, maintenance of poultry coops, fencing and painting.
Maintenance of herb and fruit garden for our preserves.
Making preserves from fresh grown fruit.
Maintenance and rebuilding of a quail house.
Making guinea fowl perches out of natural woods.
LOCAL & COMMUNITY INTERESTS
Liz has been involved in running a local toddler group in the village hall.  She has organised summer camps for local community groups at the family equestrian centre and organised Bark in the Park for Mental Health Ireland.  The family is involved in the tidy towns committee which keeps the village looking well for the community and tourists who visit as well as the GAA club and rugby.
SOMETHING SPECIAL ABOUT THE FARM
The farm has three ancient ring forts, and we hope to further research the significance of their alignment to the fort of Brian Boru in Killaloe.
The village was the location for 'Killinaskully' where the family and locals had great fun as extras.