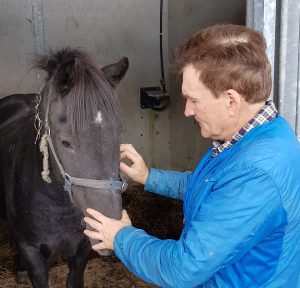 Name: John Francis & Noreen Geraghty
Farm Name: Áit Dúlra Organic Farm
Farm Type: Organic livestock, forestry, equine
ABOUT THE FARM HOLDING
Áit Dúlra Organic Farm, meaning place of nature, is a 26 acre farm registered organic with IOA since 1999.  The farm is also registered with DAFM to hold cattle, sheep and equines.  You will also find a forestry enterprise, six horse stables and two commercial poly-tunnels, as well as an orchard and soft fruit trees.  There are 13.5 acres of mature forestry and a walking and trekking path has been established on one of these parcels.
The farm is also part of the GLAS scheme (The Green, Low-Carbon Agri-Environment Scheme) which is part of the Rural Development Programme 2014-2020. It provides funding to farmers in return for delivering environmental management on their land.
Having lived abroad for 15 years John has worked with many nationalities and people of diverse social backgrounds.
A SOCIAL FARMING DAY
Assisting with animal husbandry (cattle and horses)
Organic farming and horticulture in poly-tunnels
Fence repair
Orchard pruning and maintenance
Walks to the forest and collection of fire wood
Bird and bat box maintenance
Hope to establish arts and crafts/woodwork in workshop
LOCAL & COMMUNITY INTERESTS
John and Noreen are part of the local heritage group and enjoy forestry walks and watching wildlife and birds.