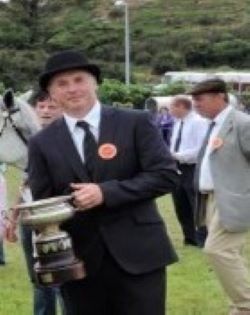 Name:

 
Philip Morgan
Farm Name:
Achadh an lúir Stud
Farm Type:
Equine, ponies
About the Farm Holding
The Achadh an lúir Stud farm is mainly based around Connemara ponies, where the Morgan Family breed and produce these amazing animals. The Connemara pony is the only native Irish breed of pony, they are renowned for their kind nature and ability. On the farm, there are 6 breeding mares and stallions that keep all their offspring until they are 4 years old. The Morgans also train them to ride and compete in jumping competitions.
They love to fuss over our ponies from a very young age as this helps with their training.
A Social Farming Day
Working with the ponies, feeding, cleaning, exercising and general care and husbandry.
Grassland management, fencing and maintenance.
Forestry, chopping and stacking timber.
Gardening, soil preparation and planting.
Stone work.
Local & Community Interests
Philip and his wife, Kerri, have 5 young kids all involved in the local football and rugby clubs. Kerri is also a youth rugby and football coach which Philip helps out with.
Their farm has been in the family since the 1700s. There are some interesting old sites on the farm including a Mass Rock where 100s of years ago people gathered to celebrate mass. The farm is at the heart of family life, the kids are keen pony riders and love their ponies.Their love of animals is very clear to be seen in how they treat them as part of the family.