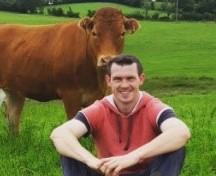 Name:  Charlie, Charles & Noeleen Smyth
Farm Name: Hilltop View Farm
Farm Type: Beef, poultry, alpacas
ABOUT THE FARM HOLDING
Hilltop View Farm is a family-run farm located on the outskirts of Virginia in Co. Cavan. The farm was originally a dairy farm and is now mainly operated as a grass-fed calf-to-beef livestock system, free-range poultry and our latest addition is our trekking alpacas.
The farm is beautifully nestled in the heart of the Irish countryside where you can escape the pressures of everyday life and surround yourself with the beauty of nature with over 150 acres of grassland and forestry that the family has farmed for more than 7 generations.
The family shows care and empathy to each and everyone who comes to the farm.  The animals and the safe environment which they offer is the perfect environment for visitors to feel relaxed, enhance their self-esteem and improve their health and well-being.
A SOCIAL FARMING DAY
Animal Care: collecting eggs from chickens; feeding claves milk in spring and dosing/feeding; feeding alpacas, mucking out stables, and trekking.
In the kitchen: baking cakes, pies, bread & making jam.
Other activities: making bird boxes, window flower boxes, and Christmas wreaths; equipment maintenance and repairs.
LOCAL & COMMUNITY INTERESTS
The Smyth's work with local schools and colleges welcoming Transition Year students on placement, French exchange students, and college students from Ballyhaise agricultural college offering their insights, expertise, knowledge and support in a warm and friendly way.   They also participate in the local Agricultural Show and Christmas market.