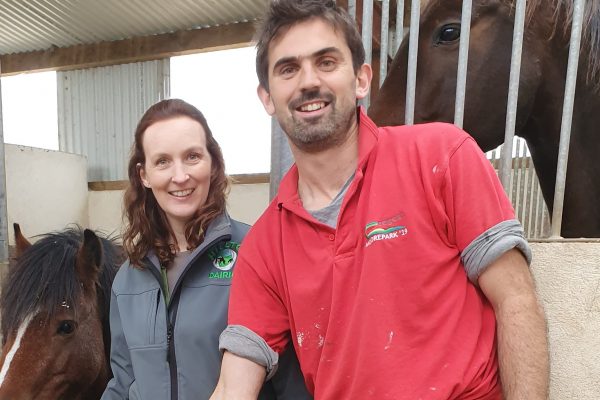 Name:
Jennifer & Ed Payne
Farm Name:
Hilltop Dairies
Farm Type:
Dairy
ABOUT THE FARM HOLDING
Jennifer and her husband Ed run a large grass based family dairy farm and the whole family helps.  They milk 500 cows between two farms each day where everyone works together as a team.
At the house there are 2 horses and a pony, dogs, chickens and cats. There are often other animals, especially around springtime.
There are always lots of jobs to be done, some are routine daily tasks and others that need to be done depending on the time of year.
A SOCIAL FARMING DAY
Caring for the cows: herding and help with milking and grass measuring. Cleaning of the milking parlour and shed. Calf feeding in spring time.
Caring for chickens: egg collecting, feeding. In the spring, some lambs are usually to hand feed and look after.  Exercising, grooming and feeding dogs.
Caring for horses:  daily tasks include, feeding and checking waters, grooming horses, mucking out, checking the fields, fencing and doing any maintenance required.
Jennifer would love to work with someone to make her gardens look better so they could enjoy some produce together.
SOMETHING SPECIAL ABOUT THE FARM
From time to time the Payne's host groups from those interested in farming to school children.