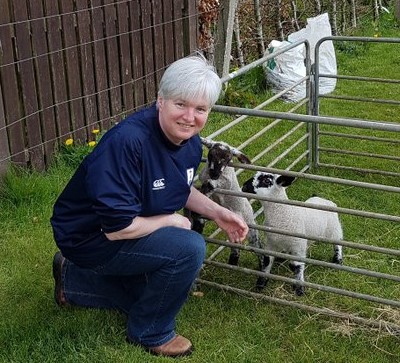 Name:
 Caroline Gleeson
Farm Type: Horticulture
ABOUT THE FARM HOLDING
This small farm set on two and a half acres of land produces perennial plants for supply to local retail outlets. There is a commercial-sized poly tunnel where plant seeds are potted and germinated. Plant cuttings and plant division is performed in this area. Plants are grown to a suitable size and then moved to the large gravelled area next to the tunnel for hardening to the elements before they are cleaned, labelled and transported to the customer.  There is a smaller poly tunnel where seasonal vegetables are produced for use in the household.
Caroline also produces free-range eggs from a small flock of hens that are roaming about the farm. Eggs produced that are not consumed by the family can be sold to people in the nearby vicinity. There is also a pet donkey called Bob and a pet pony called Abbie, who keep the family entertained with their antics in the surrounding fields.
The Gleeson's also foster a few pet lambs in the spring for the neighbouring farmers.
Having studied horticulture Caroline also studied childcare and has worked as a care assistant and instructor for people with learning difficulties and disabilities.  Her husband works as an Electronics Engineer with a local factory and has previously been involved in the construction and landscaping industry. He has also been involved in voluntary work for people with learning difficulties and people with disabilities.
A SOCIAL FARMING DAY
Potting plants
Watering plants
Feeding hens
Cleaning sheds
Feeding horse and donkey
Feeding pet lambs
Growing vegetables in the polytunnel