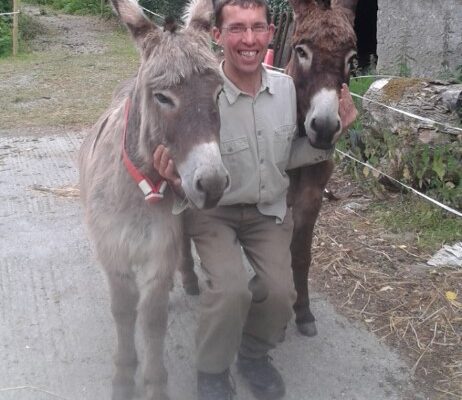 Name:
Sean O'Farrell
Farm Name:
Cloncannon Biofarm 
Farm Type:
Sucker cows, small animals, woodlands
ABOUT THE FARM HOLDING
Sean's 60-acre farm consists of a 15 cow suckler herd, selling weanlings, sows and fat pigs, and broiler chickens.  He also grows organic potatoes, veg and soft fruits.
He has diversified into providing environmental education programmes to Primary and Secondary schools.
In 2005 the farm was converted to organic. Sean has an interest in the exploration of soil science.
The farm also hosts a small number of overseas tourists and community groups.
A SOCIAL FARMING DAY
Animal Care: feeding, and caring for the chickens, geese, donkeys, and pigs.
Horticulture: sowing, weeding and harvesting in the vegetable garden and soft fruit area.  Mulching around native trees.
Other Activities: maintenance work in the native woodlands, collecting wood, visiting the fairy circle on the farm
LOCAL & COMMUNITY INTERESTS
Sean is a supporter of the GAA. He also supports the Community Garden in Moneygall Village and has worked with the Toomevara Tidy Towns group.
He is also a member of the PPN Secretariat and an acts as an environmental rep on the Local Community Development Committee (LCDC).