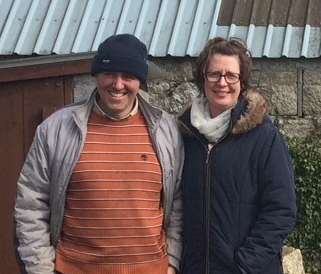 Name:

Simone and Liam Webb
Farm Type:
Horticulture, dry stock, equine
ABOUT THE FARM HOLDING
Liam and Simone have farmed this small holding of 60 acres in the Kilcoole area of County Carlow since 1996. The farm is laid out in 9 divisions which have not been altered over the last 100 years making this a unique and natural habitat for wildlife with foxes, rabbits, hares, hedgehogs, sparrow hawks and owls making the occasional special appearance.
They mainly specialise in beef cattle but also provide a small livery service for thoroughbred horses and have two cats, Vinny and Lochy.  There are a good range of modern farm buildings including three cattle sheds, old stone stables and a large American barn. The entrance to the farm is situated 90 metres from the main roadway with the gate to the farmhouse directly off the farm.
The dwelling house's large garden area accommodates raised vegetable boxes, a large chicken coup and a main flower bed. The vegetable boxes have been built to accommodate wheelchair users.
The farm is not an intensive farming enterprise and the focus is always on providing a healthy farm environment for the farm animals, where wildlife can live and thrive.
A SOCIAL FARMING DAY
Gardening; preparing beds, planting, weeding, dead-heading and watering, tending and harvesting fruits and vegetables.
Animal care: feeding cattle and calves, dosing, checking water troughs, cleaning out stables, sorting cattle for sales, visits to local marts.  Tending chickens,  cleaning  house and dosing, collecting and dating eggs.
General maintenance:  sweeping and washing farmyard, painting.
Other activities: walks with picnic to lower fields near small woods on famine path, arts & crafts with wreath making at Christmas time, baking, photography.
LOCAL AND COMMUNITY INTERESTS
Liam and Simone are very active in their community and participate in many activities such as story telling, bingo, Irish-dancing and the Christmas market.  Simone has  been involved as a volunteer within the community teaching Art to children for Community Games for the past 13 years.
SOMETHING SPECIAL ABOUT THE FARM
The farm holds its own piece of history with a famine pathway and stone stile which crosses the land linking the neighbouring town's land of Kellistown to another site (within viewing distance) where outdoor famine masses were held.