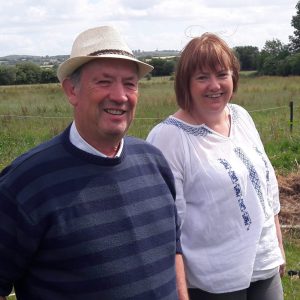 Name:
Una & Val Cross
Farm Type:
Drystock, equine
ABOUT THE FARM HOLDING
Val and Una have owned this 50 acre farm since 1992. Val's family farm is now part of the farm and his large extended family live all around.  Val and Una run a calf to beef enterprise on the farm. Val breeds thoroughbred horses, and runs a livery business.  There are 10 stables, a foaling stable, turning out padlocks, and a walker, horse stock (for safe treatment of the horses). There are a collection of ducks and hens, a dog, lots of cats, a pet donkey and miniature pony.
Val spent all his life farming but since retiring he now works full time on the farm. Having family living close is a great bonus as they can help and spend time together. Una trained as a counsellor and psychotherapist, massage therapist, and teaches English as a second language.  Both Una and Val both love welcoming people in their home and are keen to share their farm with others.
A SOCIAL FARMING DAY
Cattle care: feeding, counting, husbandry.
Taking care of horses (mares, foals and riding horses): grooming and cleaning stables, helping farrier.
Caring for ducks and hens: feeding, cleaning and collecting eggs.
Helping with fencing and general maintenance.
Fruit and vegetable growing: sowing.
Rainy day activities: cleaning the tack (horses) and baking with Una in the kitchen.
LOCAL & COMMUNITY INTERESTS
Val has a passion for horse racing and races in local and international events as much as possible. He is very involved in the community alert in the area and looks after the monitored alarms for the over 65's in the community. Una volunteers in a rehabilitation centre and with the local secondary school.
OUR SOCIAL FARMING EXPERIENCE
"Tea breaks and lunch are the highlight of our day, everyone enjoying the food and the craic.  The overall experience has been very positive.  Each week we see the participants getting more confident and relaxed.  Social Farming has brought the fun back, like when there was more than just one or two on the farm." – Val & Una Cross