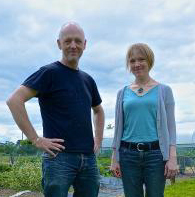 Name: Patrick Bobbett
Farm Name: Juliasdale Organic Farm
Farm Type: Organic, sheep, horticulture, forestry
ABOUT THE FARM HOLDING
Juliasdale Organic Farm is a 50 acre farm on the edge of the ancient Village of Lusk, in North County Dublin run by Patrick and his wife Heidi. The land has been in the family for at least four generations. It was has been certified organic since 2007 Since then the Bobbett's have nurtured the farm, planting over 400 trees, developed a small organic vegetable enterprise and a flock of Lleyn sheep.
The farm is a beautiful oasis of old hedges with lots of birds including coastal birds which come across from the nearby Rodgerstown Estuary. There is a small stream, called Brides Stream, which flows through the farm. The Bobbett's like people visiting the farm and enjoying the beautiful place it is.
The Bobbetts' enjoy producing healthy organic food as well as sharing the farm with others. It is a place that can effectively facilitate personal growth and is a relaxing place to be.
Prior to farming Patrick and Heidi worked in health care, drug rehabilitation and the community voluntary sector.
A SOCIAL FARMING DAY
Propagation and care of plants
Care of sheep
Tree care: planting and nurturing trees
General farm maintenance: fencing, painting, tidying
Upgrading sheep fences
LOCAL COMMUNITY INTERESTS
Patrick has managed a Community project which recruited volunteers to help meet the needs of local people. Included in this support offerings were English classes, gardening, painting and decorating as well as advocacy work. This work gave him much experience in supporting individuals with a wide variety of needs.