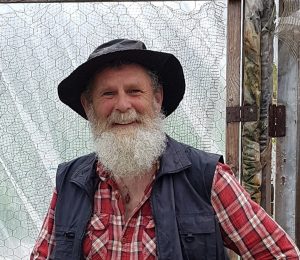 Name: Steve Barham
Farm Name: Hollymount
Farm Type: Organic horticulture, forestry, small animals
ABOUT THE FARM HOLDING
Hollymount is a 3.5 acre organic smallholding nestled into the foothills of the Slieve Aughty mountains looking out towards the Burren and Galway Bay run by Steve and his wife Sally. Steve spent 20 years restoring the abandoned buildings and land and now has a large productive vegetable garden, poly-tunnel, orchard, pasture for two rescue donkeys, chicken yard, mixed tree plantation, wetland and ponds, woodland shrub garden and lots and lots of flowerbeds and borders for the bees. They have dogs and a cat.
The Barhams' have gardened organically for 40 years and have also reared sheep, pigs, goats, donkeys and a variety of fowl. They have picked up a collection of different creative skills and like to add to the place with DIY handmade projects (i.e., pizza oven, sauna, bee hives, greenhouse).
Sally works as a midwife and Steve does social and support work with youths and adults with complex needs.
A SOCIAL FARMING DAY
Tending the gardens: orchard and woodland – planting, harvesting, weeding, watering.
Time up on the bog, footing the turf.
Landscaping: making paths, building low walls, mowing grass, painting fences.
Bee garden for pollinating insects and building a wormery.
Indoor activities: working in the potting shed, planting seeds/transplanting seedlings, making flower pots and craftwork flower casts in workshop, fruit and vegetable processing.
Other activities: taking walks, time with the donkeys and chickens, sitting in the gardens for a chat, a laugh, and a picnic!
LOCAL & COMMUNITY INTERESTS
Steve and Sally and often host volunteer workers (WOOFERS) and are also part of a long term local Meitheal group which meets weekly.  They fostered children for a number a years and have also offered respite care for people with an intellectual disability.