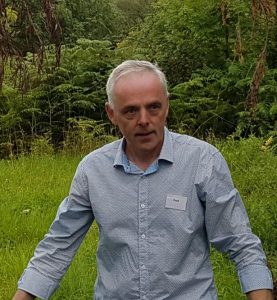 Name: Paul Maguire
Farm Type: Horticulture, woodlands
ABOUT THE FARM HOLDING
Paul's has been running his generational farm since 1991.  The farm consists of 72 acres of diverse ecologically rich lands that have been in the family for many generations.
The farm is of huge historical importance as there is an iron ore furnace located on it.
Its diversity is broken down into 18 acres of mature woodlands, 22acres of planted woodlands (2007 & 2011), 10 acres of fertile bog and the remainder being grazing land and meadows. The river Cloon borders the lands to the East and there is a newly constructed accessible B&B at the hub.
Work on the farm was always old style with very little farm machinery. This set-up Paul always felt was conducive to the Social Farming model, off the main road- no slurry tank no dangerous machinery etc.
A SOCIAL FARMING DAY
Clearing a quarter acre garden, near the 17th century stone cottage repairing the existing stone wall, constructing and erecting a timber gate, turning soil and planting herbs and vegetables.
Clearing and repairing the stone wall circling the historical Furnace.
Helping convert half acre grazing field into a pig's field, construction of a pig ark, constructing bird and bat boxes as well as green furniture, slane turf cutting.
LOCAL & COMMUNITY INTERESTS
Paul has developed a Cycling safety and skills programme for children with Down Syndrome and is currently running it in conjunction with DS Mayo. He is an active member of the Parents Association in my childrens' National School.
SOMETHING SPECIAL ABOUT THE FARM
The iron ore furnace is a step back in time, untouched by modernisation with the qualities our forefathers cherished.