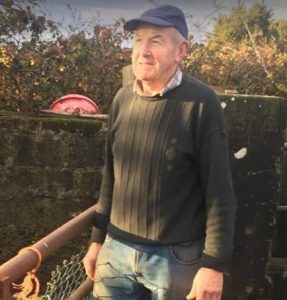 Name:  Jeremiah O'Donoghue
Farm Type: Sheep
ABOUT THE FARM HOLDING
Jerry is married to Eileen and has a traditional sheep farm comprising 80 acres in Parkana, 21 acres in Ards, and 45 acres in Gouladoo.  The land is used mainly for grazing of sheep throughout the year.  Sheep are out-wintered on the land and supplemented on concentrates during late winter and early spring.  The sheep are not housed so numbers are based on this system. For the summer sheep numbers are increased by purchasing extra sheep to control the grassland.
There is also a small flock of rare breed Jacob sheep on farm.
A SOCIAL FARMING DAY
Repairing fences and replacing wire, replacing broken fence posts and any damaged sheep wire.
Working with sheep in yard by moving flock through the handling facilities.
Moving sheep from paddocks when grass has been grazed off to provide new pastures for flock, some stock are fed and feeding concentrates in troughs.
Marking sheep for market.
General flower and garden maintenance in farm yard flower beds.
LOCAL & COMMUNITY INTERESTS
Jerry volunteers with the Bantry Agricultural Show and as a driver for Cancer Connect.  He is also a member of the following groups: Durrus Men's Group, Bantry Purchasing Group, Community Alert Group, Sheep group, and Knowledge Transfer Group.