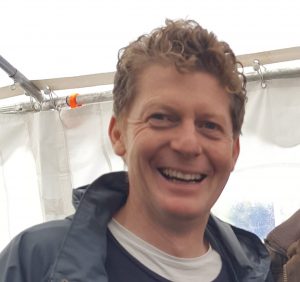 Name: Colm O'Dowd
Farm Name: Middlethird Farm
Farmer/Grower: Livestock, horticulture
ABOUT THE FARM HOLDING
Middlethird Farm is an 11 acre family farm developed by the O'Dowd family as a place to live and work in a sustainable, healthy and environmentally conscious way. The farmland is south facing and offers spectacular views over Ardfry House and Penninsula, Galway City, the Inner Galway Bay and the mountains of the Burren and Black Head to the South. The family home located on site is a contemporary Irish farmhouse – a light filled space set into the landscape to minimise its impact on the local environment.
The farm comprises a kitchen garden, orchards, vegetable and herb gardens and traditionally restored farm buildings including a workshop, a glasshouse and animal enclosures. While the farm is not certified as organic, the farmland is maintained free from the use of chemicals and chemical fertilisers. Cattle, sheep, pigs and donkeys graze the farm pastures which rise from the shoreline to 18m above sea level offering spectacular views over the bay. A wind turbine supplies electricity to the house and farm. Middlethird Farm is a net contributor of green energy to the grid.
In co-operation with a local artist, Eilish McInerney, the farm hosts regular art and craft workshops for children including children with special needs. Eilish is a trained social care worker and has spent 13 years working with Gheel Autism Services in Dublin.
Deirdre Bennett, a trained horticulturist and nutritionist, also works on the farm. Deirdre and her work has really appealed to many of the participants on the farm and they now have a keen interest in planting and growing vegetables and fruits.
A SOCIAL FARMING DAY
Assisting with animal husbandry
Organic vegetable and herb planting and harvesting
Tree planting; maintaining woodland areas and wild flower meadows
Seaweed harvesting and product development
Arts & crafts, cooking, baking
Monitoring energy production and usage – (turbine on the farm)
LOCAL & COMMUNITY INTERESTS
Colm is a member of the Local Community Development Association and the Galway Bay Sailing Club which is nearby. He is also a founding member of Cuan Beo, a local organisation established to promote the environmental, economic, social and cultural development of the South Galway Bay region (from Oranmore to Blackhead (Co Clare). He is a member of the Board of Management of Kilcolgan Educate Together National School.
MY SOCIAL FARMING EXPERIENCE
"The best part of the day is the social aspect when we come together in the kitchen for refreshments.  The lads enjoy when friends pop in for a cup of tea and a chat or just to say 'hello'." – Colm O'Dowd