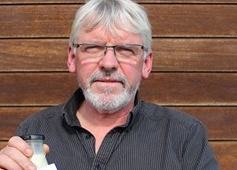 Name:
Pat Bradley
Farm Type:
Dairy, forestry, horticulture
ABOUT THE FARM HOLDING
This 100-acre dairy farm has been in the Patrick's family for three generations.  There are about 60 cows on the farm and a bottling site where raw milk is produced and bottled (raw milk is fresh, unprocessed milk).
In addition to dairy, 26 acres of the land is devoted to forestry and there is a vegetable garden for home use.
A SOCIAL FARMING DAY
Feeding, cleaning, and caring for dairy cows and calves.
Bottling and delivering milk.
Tending the vegetable garden; sowing, transplanting, weeding, and watering (and eating!).
LOCAL & COMMUNITY INTERESTS
Pat is passionate about nature, farming, and healthy, natural food and likes to share his knowledge with his neighbours.  He has built connections with local shops and markets and enjoys spending time cultivating these relationships.
Pat is also an avid car enthusiast who enjoys visiting car shows in the area.