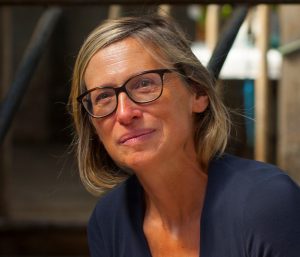 Name: Fania Ellison
Farm Name: Ardagh Lodge
Farmer Type: Floriculture, horticulture
ABOUT THE FARM HOLDING
Ardagh Lodge is a farm filled with a garden and trees. There are flowerbeds, a poly-tunnel, a greenhouse, a meadow, a pond, raised beds, willow beds, and 13 acres of trees and paths. In the Summer there are also hens along with two family dogs, a Labrador and a rescue terrier.
Fania lives with her husband, 3 children, and mother. They all feel very lucky to live in such a beautiful place and put all their efforts into keeping it looking great.
A SOCIAL FARMING DAY
Caring for and growing veg, fruit and flowers: sowing, feeding and watering, weeding, digging over the raised beds, greenhouse and poly-tunnel and putting compost and seaweed over them; caring for and maintaining tools.
Looking after hens and collecting eggs.
Gathering sticks and firewood.
LOCAL & COMMUNITY INTERESTS
Walking and cycling on the greenway path, sailing and swimming in Clew Bay.  Fania is involved with several local groups as well.