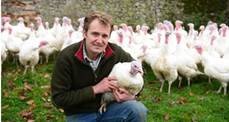 Name:
Richard & Jackie Moeran
Farm Name:
Farren-Connell
Farmer type:
Mixed, dry stock, tillage
About the Farm Holding
Farren-Connell has been in the Nugent family for over 500 years and is a well-known landmark in the locality. The farm enjoys a parkland experience offering extensive pastures combined with native Irish woodland and trails. Current enterprises include tillage and a suckler to beef system. The entire holding comprises of 500 acres and is certified organic.
The woods at Farren-Connell are also used by a local archery group for national and international competitions over weekends. Survivalists avail of the tremendous woodland setting, camping out with the barest of equipment re-enacting an ancient experience.
A Social Farming Day
Help with the creation and maintenance of an orchard and poly-tunnel.
Opening a new access to an ancient forest walkway.
Feeding animals and participating in the experience of the day to day running of the farm.
Local Interest
Richard is active in local IFA and is currently chairperson of AgriAware.
Something Special about the Farm
Farren-Connell is home to the Irish Girl guide Society in Cavan and regularly hosts groups of Guides from surrounding counties for weekend and weekly visits.