Mount Allen, Co Roscommon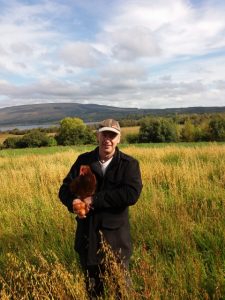 Name: Tommy Earley
Farm Name: Mount Allen
Farm type: Organic suckler beef, horticulture, woodland
ABOUT THE FARM HOLDING
Mount Allen Farm 100 acre farm is run by Tommy Earley and his wife Gabrielle.  Situated between the foot of the Arigna Valley and Lough Allen, the family has owned and farmed the land since 1888.  They have been involved in social farming since 2014 and have hosted participants from the mental health, long term unemployed and intellectual disabilities sectors.
The farm has been organic since 1996.  The main produce from the farm is weanlings from the suckler herd.  The Earleys also grow vegetables and harvest timber for domestic use.
The farm is being developed with Eco tourism in mind. A network of tracks and trails have been laid down throughout the farm to facilitate eco walks.
There are a range of habitats on the farm, including lake shores, bog land and woodland and Earleys aim to protect the natural biodiversity in these habitats, including rare flora and fauna, through organic, low impact, responsible farming methods.
A SOCIAL FARMING DAY
Winter: feeding and bedding animals that are housed, cleaning out sheds, scraping the yard, gathering fuel from the woods.
Spring: Fencing field boundaries; seeding and planing the garden for the new growing season.
Summer: Maintenance of trackways, tending to the kitchen garden, saying hay/silage, biodiversity walks, plant and insect identification.
Autumn: Harvesting crops, wildlife watching, maintaining bird and bat boxes.
Some days the main event is the tea break with easy conversation or maybe a trip to the local co-op.
LOCAL & COMMUNITY INTERESTS
Member of Parish Pastoral Community team.
Board member of Leitrim Organic Farmers Co-Op.
Work with Knockvicar Community Gardens, promoting gardening in schools.
Work with Birdwatch Ireland, Bat Conservation, National Parks and Wildlife and Irish Peatlands Conservation Council to protect endangered habitats and associated flora and fauna; and raise awareness of these habitats.
I enjoy fishing and hill walking and have a keen interest in local history and Irish music.
MY SOCIAL FARMING EXPERIENCE
"My social farming experience has been uplifting. To be able to provide the space where participants can experience the healing properties of nature is great. To see the smiles and hear the laughter and watch the contented look on the faces at the end of the day lets me know that social farming is working." – Tommy Earley