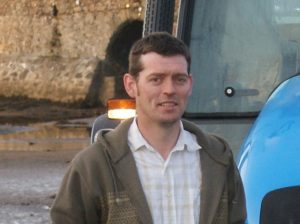 Name:  William McLaughlin
Farm Type: Dairy
ABOUT THE FARM HOLDING
William has always wanted to be a farmer so after Agricultural college he took over his family's multi-generational dairy farm.   The farm provides milk to the local creamery and supplies milk to some of the local community. William's farm is centered around caring for the animals in a safe and secure environment, milking, storing and transporting raw milk and collecting storing and delivering processed milk to local people and shops.  The farm also grows/makes food for animal fodder.
William is secretary for the a local NFA and his wife Marie a multi-task worker for intellectual disabilities so they have an understanding of disability needs and support. They have teenage children who are all involved in farming and can provide an experience that is typical of an average farm while having an awareness of the needs and supports needed for people with disability.
A SOCIAL FARMING DAY
Feeding animals particularly the calves
Cleaning and storing equipment correctly
Setting a small vegetable garden
Setting trees for fencing or shelter
Visiting local mart; mixing with local farming community
Learning about farm animals (i.e. breeds of cattle, names of birds) and farm equipment
Growing and producing fodder
LOCAL & COMMUNITY INTERESTS
William and his family have many varied interests: the tidy towns' initiative, GAA sports facility, parish community centre.
The locality has an abundance of clubs such as a local fishing club, cycling group and local boxing club. The community centre holds a variety of adult learning classes such as, computer literacy, adult literacy, health and beauty and a local mens' shed.
LOCAL COMMUNITY
Nearest Services:  Local village has all amenities such as Post office etc., local doctors 4km away.
Nearest town: Malin; nearest city, Derry,
Nearest public transport or rural transport initiative:  Local bus service which passes the farm.