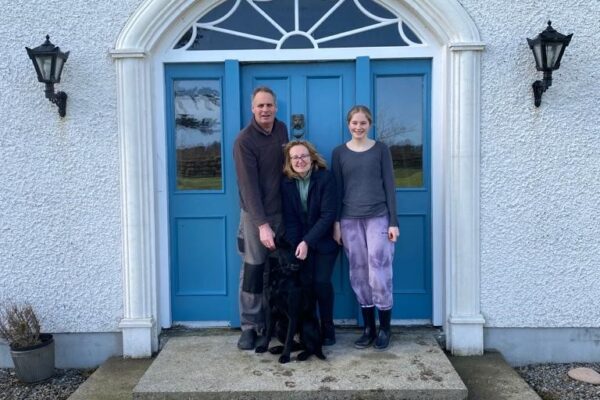 Name:
Michael & Ita Gordon
Farm Type:
Dairy
ABOUT THE FARM HOLDING
The Gordon's have a dairy farm and milk 48 cows from February to November.  The farmyard is close to the house which makes it easy to pop in for a cup of tea in between jobs. There are about 16 paddocks around the farm for the cows to graze. In February there are lots of new-born calves. There are also 5 hens who lay eggs every day. A loving and playful year-old black Labrador/Retriever dog named Willow fills out the family.
The farm has a modern parlour with good open sheds for the cattle, calves and machinery. There is a small vegetable patch at the back of the house where a few vegetables and herbs are grown. The farm produced milk and eggs is used in cooking and baking in the home.
A SOCIAL FARMING DAY
Animal care: milking the cows, feeding calves and chickens, collecting eggs.
Horticulture: digging vegetable patch, sowing, planting and caring for veg, herbs and flowers.
Other activities: power-hosing and cleaning machinery, visits to agri-store; baking with fresh milk.
LOCAL & COMMUNITY INTERESTS
The family is involved in Ardagh GAA club and MacHale Rovers Ladies Football club in Crossmolina where Ita is Registrar. Michael is involved in Dairy discussion groups and takes part in Farm walks in the locality. Michael owns a chip van they bring along to agri-shows. The family enjoys walking and taking part in community clean ups.
Michael also runs a mobile catering truck that he brings to the agricultural shows which we like to attend locally during the summer at weekends, where we enjoy meeting the people.