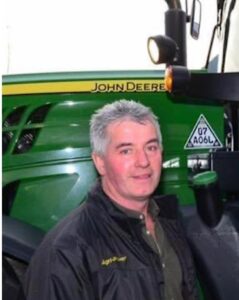 Name:  Patrick Harley
Farm Type: Drystock, sheep, forestry
ABOUT THE FARM HOLDING
Patricks runs this family farm with his brother Kevin.  The farm is currently home to a Dexter cattle herd and a sizable sheep flock. Renewable energy and forestry are also central to the farm. There are currently five hectares of Willow planted on the farm for harvesting every second year and five hectares of mixed forestry, which were planted on the marginal land of the farm. The farm also has a purpose-built drying shed for harvested Willow which is dried in the form of wood chip and used to heat our homes.
Patrick has been farming along with his late father since he was a child. As diversification has always been important to Patrick the farm has evolved over the years from poultry and beef to deer and now to a model of livestock farming of sheep and cattle mixed with growing Willow for renewable energy and some other conservation projects i.e. plantations.
A SOCIAL FARMING DAY
Animal care: feeding, watering and moving cattle and sheep.  Assisting when Vet arrives.
Forestry: helping to tidy up the forestry, helping to monitor temperature and conditions when wood chips are drying, maintenance of hedgerows and laneways on the farm
General farm maintenance: checking and maintaining bird and bat boxes, maintenance of tools and machinery, monitoring fencing and water distribution systems, light fencing.
Other activities: visits to local shops for supplies.
LOCAL & COMMUNITY INTERESTS
Patrick is actively involved in the community surrounding the farm. He organises, participates, and provides machinery for community clean-up days and maintains hedgerows and footpaths from the farm to the main road.