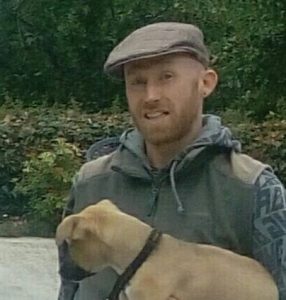 Name: Brian Sullivan & Niamh Fitzgerald
Farm Type: Dry stock, horticulture, orchards, woodlands
ABOUT THE FARM HOLDING
Brian and Niamh have a small traditional family farm set in the foothills of the Comeragh mountains about 2 miles from the Mahon Falls. They keep cattle, horses and poultry on the farm. There is a poly-tunnel where vegetables and potatoes are grown and a orchard where the poultry are free to roam throughout the year.
Areas of bogland and woodland that have been fenced off for the past number of years are now important habitats for natural bird and wildlife. Last year there were a large pair of European buzzards nesting in the wood.
Brian is the 5th generation of the family to live and work on this farm where his mother was born.  He has worked for 17 years as a support worker in the Mental Health and Disability Sector for a number of different services in both Ireland and Canada.  Niamh has also worked for many years as a support worker and is also a practising Holistic health therapist.
A SOCIAL FARMING DAY
Feeding cattle and horses , checking them daily for any signs of ill health, moving them to new grass etc.
Feeding poultry and collecting eggs.
Horticultural activities such as propagating seeds,planting,maintaining and harvesting fruit and vegetables.
Feeding and exercising the farm dogs.
Maintaining hedgerows and woodland areas including timber cutting and collecting.
Foraging for wild food such as blackberries and sweet chestnuts when in season.
LOCAL & COMMUNITY INTERESTS
Living in the scenic foothills of the Comeragh mountains Brian and Naimh often partake in hiking/walking activities on the nearby trails and on the nearby Waterford greenway with family and friends.
See Niamh and Brian featured in AgriLand here.