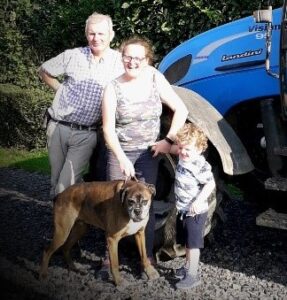 Name: Joan Moriarity
Farm Type: Suckler beef, poultry
ABOUT THE FARM HOLDING
Joan's farm is a suckler, dry stock farm of 50 acres. On the farm you will find suckler cows, claves, dry cattle, a horse, hens and a dog named Ben
 A SOCIAL FARMING DAY
Animal care: Feeding calves, horse, and hens – collecting eggs.
Horticulture: Gardening, setting bulbs and flowers, painting pots and planters
General Maintenance: fencing and stable/shed maintenance.
Other activities:  Baking using collected eggs and enjoying a scone/bun with a nice cup of tea; going for walks on the land and enjoying the countryside.
LOCAL & COMMUNITY INTERESTS