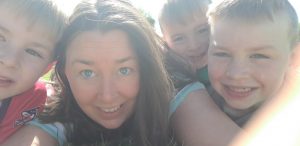 Name: Ann Marie & Shay Gilbert
Farm Type: Organic dairy, agriculture, horticulture
ABOUT THE FARM HOLDING
Ann Marie and Shay live on the farm with their three young boys.  The boys each have a pony they groom and ride.
The farm is certified organic and dairy is the main product.  Shay does all of the work with the dairy cows.   In addition to dairy the family also breed goats, sheep and poultry.  There is a small house garden for growing vegetables which the family are hoping to improve and increase.
The farm has been in the family for generations.
A SOCIAL FARMING DAY
Animal care: rearing young calves, feeding milk and nuts, bedding in the winter months; caring for the ponies, chicks and goats.
Vegetable gardening: helping to sow seeds, transplant, feed, water and weed.
General maintenance: fencing paddock areas behind the garden.
Unlimited tea and cakes!
LOCAL & COMMUNITY INTERESTS
The family are involved in the GAA, Soccer and horse riding. They enjoy going to Agri Shows and to the Marts.