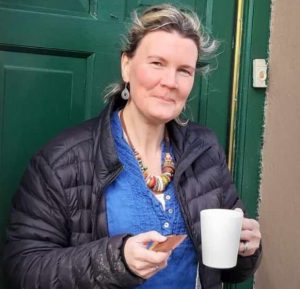 Name:  Grace Cooney
Farm Type: Mixed smallholding
ABOUT THE FARM HOLDING
The farm is situated at the foothills of Lough an Leagh,  a region of high landscape value situated in east Cavan.  It is an area of outstanding natural beauty offering spectacular panoramic views of the Irish countryside, e.g. the Mournes, Benbulbin, Wicklow as well as the Sperrin mountains ranges are visible on a clear day!
The farm consists of a small parcel of land, a cottage, a start up market garden with tunnels (which we intend to convert to organic ), a small orchard in the making, some beehives and our 2 donkeys. It is also our intention is to have some hens, guinea fowl and ducks. The farm also has private access to the walking trails and the various nature walks leading up to the summit of Lough an Leagh.
In the family for four generations, the primary focus of Grace's farm is to become a sustainable self-sufficient organic market garden growing salads, vegetables, producing eggs and caring for a small number of farm animals.
A SOCIAL FARMING DAY
Gardening: planning, sowing, planting, feeding, maintaining and harvesting fruit and veg in raised beds, composting manure.
Animal care: caring for donkeys and hens: , feeding, cleaning sheds, putting down bedding, collecting eggs, taking time to get to know them all.
General maintenance: maintaining gates, installing and checking boundary fencing and water troughs.
Other activities: designing and building compost bins, visits to the local hardware shop or Agricultural Co-op.
LOCAL & COMMUNITY INTERESTS
Grace is part of the local voluntary organisation dedicated to the preservation of Loughanleagh, protecting it from the adverse effects of development and the negative impact it has on the ecology, archaeology and visual impact on the area. The family is also involved with the 'Trees on the land' initiative and have planted several hundred trees, shrubs and flower bulbs across the farm.
The family has many interests from organic gardening to sports, heavy metal music to classical, DIY wannabees to meditation, backpacking to social matters and they have a keen interest in social enterprises.