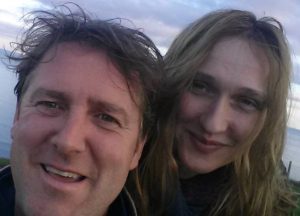 Name:  Evie Connolly & Ivan Heskin
Farm Name: Cullenagh Stables
Farm Type: Equine/livery, small animals
ABOUT THE FARM HOLDING
Cullenagh Stables is a working farm and stables, ten minutes from Waterford city.  They are a mixed farm and, over the years, have kept dairy cows, cattle, sheep and horses.  Now, the farmyard and surrounding fields are devoted to a livery enterprise, which includes stable blocks, a sand arena and cross-country trails.
Evie and Ivan keep horses, ponies, hens and two little shih tzus that are very welcoming of social farming participants. They are in the process of introducing sheep to the farm family.
Both Evie and Ivan are interested in equine therapy, and Evie is in training as a therapeutic riding coach, which she plans to incorporate into the social farming day. Both have devoted much time to developing the farm trails, adding new features to the riverside and woodland paths to create a sensory trail, which is also used for fishing and foraging.
Ivan is a full time farmer, who is also very interested in painting, as is Evie, who is a social worker by profession.  They are animal lovers and enjoy instilling creativity and love for nature into all that they do.
The farm stretches alongside the Waterford Greenway in Kilmeaden and is easily accessible by bike and car.
A SOCIAL FARMING DAY
General maintenance: stable and yard care, paddock and arena care, fencing and clipping, basic tack care
Animal care: Horse grooming, helping to care for the sheep and hens, feeding all animals
Collecting eggs
Arts based therapies, especially painting and scrap booking (especially on rainy days)
Walks on the sensory trail
Apple, pear and plum picking
Food preparation
Fishing and foraging (seasonal)
LOCAL & COMMUNITY INTERESTS
Historic Fairbrook Mill, Waterford Greenway, Mount Congreve Garden, River Dawn.
SOMETHING SPECIAL ABOUT THE FARM
Evie and Ivan are big supporters of Endurance Riding Ireland and, in recent years, have hosted Endurance Ireland fun rides.