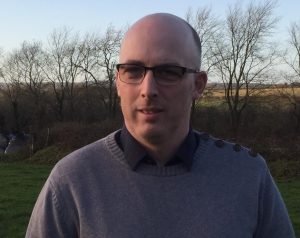 Name: John Murphy
Farm Type: Dairy, woodland
ABOUT THE FARM HOLDING
Since 2013 John and Minna have lived on the farm with their two children.  This small family dairy farm has 40 cows as well as replacement heifers and calves on 45 acres of land.  There are two rabbits and two chickens as well as a few acres of natural untouched woodland on the banks of the River Bride.  John is the farmer and Minna runs a preschool on the farm.  Minna is a fully-trained inclusion co-ordinator and has two students with special needs attending full-time.  The preschool children often go for nature walks for fresh air and exercise and to collect items for their art projects.  There is a large car park and a wheelchair accessible toilet.
A SOCIAL FARMING DAY
Animal care: during spring cows calve down and go into milk production.  During this time there is feeding the calves, milking, rationing and making hay; laying  fresh straw for bedding and tagging; scraping the yard.
General maintenance: repairing permanent wire fences, moving strip wire grazing fences, trimming weeds back from the wires, fixing water troughs, keeping the yard and houses clean and tidy.
Other activities include building a fence to create a new play are for the preschool, building a new and bigger coop for the chickens and create a raised bed vegetable garden with poly-tunnels and a rabbit wire fence; building bird and bat nesting boxes to hang around the farm as well as bee hotels in the workshop.
LOCAL & COMMUNITY INTERESTS