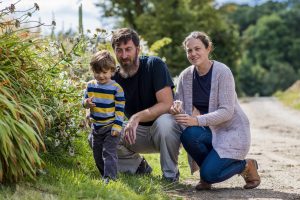 Name: Denis O'Connor & Shelly Berry
Farm Name: Ragtree Farm
Farm Type: Equine
ABOUT THE FARM HOLDING
Rag Tree is a small 10 acre holding located on the coast between Blackwater and Kilmuckridge in County Wexford.  It is primarily an Equestrian Farm offering Social Farming as well as Equine Assisted Learning, Therapeutic Horse Riding and QQI accredited programmes. The farm is run by Denis and Shelly along with their young son Ruben.
Shelly holds a BSc. (Hons.) Equine Studies and from Athlone Institute of Technology with a Certificate in Business Studies in Equine Studies.  She has worked in a number of areas in the Equine sector since graduating in 2006.
Denis holds a BA in Sociology and Geography from N.U.I Maynooth.  He has worked for over 20 years in the Community and Voluntary sector.
Both Denis and Michelle have grown up with and worked with animals and are interested in nature, preserving habitat and supporting wildlife on their farm.
A SOCIAL FARMING DAY
Animal care: bringing in/out horses, grooming, mucking out, feeding hens, fencing/ checking paddocks, checking on animals.
Vegetable gardening: planting, weeding, harvesting, garden maintenance, eating!
Maintenance: fixing fences, painting, tidying, general DIY.
LOCAL & COMMUNITY INTERESTS
Kilmuckridge village is a vibrant community with good community spirit.
OUR SOCIAL FARMING EXPERIENCE
"We have had a number of men who are residents of a Homeless Mens Hostel out with us.  It has been nice to get to know them and hear their stories and develop strong relationships with them.
One of the greatest quotes from one of the men was that "When I'm out here I'm not homeless".
We feel that the relationships we have made are meaningful and lasting. Another man who has attended regularly told us that he loves coming out as it gives him a day where he feels useful and can get out of the hostel." – Denis O'Connor