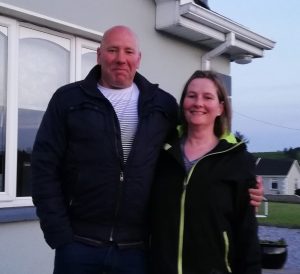 Name:  Tom & Mary Cook-Connelly
Farm Type: Suckler beef
ABOUT THE FARM HOLDING
Tom and Mary live on a 65 Acre farm with their four young children and two dogs.  They have sucklers, calves, a few chickens a small pony and are always looking to add more! Mary is a chef so there is always a bit of home baking on the go. Each year as the kids get older they are getting more involved with the workings of the farm.
The farm is small and simple and there is little or no machinery work except for winter time feeding and cutting of silage. There is a stream running just a short distance from the house the dogs love jumping into on a hot day.
The different times of the year dictate daily activities and taking time over cups of tea and fresh scones is important too. Tom and Mary love to see visitors on their farm and how it brings life into it for their children and breathes life back into others.
ACTIVITIES OFFERED TO PARTICIPANTS
Gardening:  tending the home vegetable garden in the new poly-tunnel,  planting, weeding, watering, picking and eating Mary's home cooking.
Animal care: checking on, feeding, and bedding calves.
General maintenance: cutting grass, cutting under wire fencing, trimming hedges and weeding, painting gates and fencing (railing), cutting of small firing and stacking blocks for fire.
Other activities: painting of fairy doors in the garage when poor weather hits, drinking tea and plenty of grub.
LOCAL & COMMUNITY INTERESTS
The family enjoys taking some of the lovely walks in the wood.  There is also a mass rock in the area and a famine walk they enjoy.