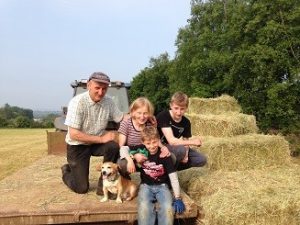 Name:  Richard & Eleanor Murphy
Farm Name: Robinstown House
Farm Type: Organic tillage, drystock
ABOUT THE FARM HOLDING
The Murphy's farm is a mixed farm of tillage and livestock. Situated in Glenmore in south Kilkenny as the name suggest the area is full of hills, valleys and streams. There are cows and calves, sheep and lambs on the farm. The tillage crops are wheat, oats, barley, peas, millet and sunflowers. The cereals are used in feeds which are sold under the brand name "Robins Glen" Organic Produce. The Murphy's have an online business selling livestock, pig, poultry and wild bird feeds which are prepared on the farm and delivered countrywide.
Another crop grown each year is Pachelia to provide pollen for the beehives.  The bees are very important pollinators on the farm!
Each year they grow some of their own fruit and veg so potatoes get planted each spring and apples get collected in the Autumn.
A SOCIAL FARMING DAY
Moving and feeding cattle and sheep.
Maintenance of fences and general farm cleaning and tidying.
Sowing veg and potatoes in the springtime.
Summertime and Autumn time jobs include harvesting of cereals, pick and packing sunflowers. Bagging and labeling bags of feed for customers. Picking apples if the harvest is good!
Collecting honey from bees.
LOCAL & COMMUNITY INTERESTS
Richard and Eleanor are members of the South Kilkenny beekeepers association as well as members of IOFGA (Irish Organic Farmers & Growers Association).  They feel passionate about the importance of clean chemical free food and preserving the environment for future generations.