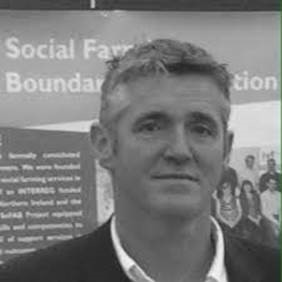 Name: Malachy Dolan
Farm Type: Organic agriculture, horticulture
ABOUT THE FARM HOLDING
Malachy and his wife Miriam along with their three children operate an organic suckler herd on 50ha in South-West Fermanagh.  The farm has been in the family for over 150 years and the remains of some old houses that belonged to family ancestors are still to be seen.  The farm house has been remodeled a number of times in the intervening years, however it retains a lot of its original character; the old kitchen with original beams is used to this day.
The Dolan's calves and stores are sold to other organic farmers to be finished for beef.  There is a garden and poly-tunnel that occupy half an acre next to the farm where, using the organic manure from the farm, they grow a range of vegetables; potatoes, carrots, parsnip, leek, cabbage, sprouts, turnip, beetroot, onion, garlic, spinach, tomatoes and more.
There is also a one acre orchard planted with native breeds of apples from Irish seed savers in Co. Clare. These varieties of apples are in danger of dying out.
Malachy works on the farm full time while Miriam is a local GP whose professional experience has significantly added to their social farming experiences.
A SOCIAL FARMING DAY
Autumn/Winter: Feeding cattle, animal husbandry, cleaning sheds; field boundary restoration (fencing & planting of hedges/trees); machinery maintenance; harvesting from the garden and preparation for next year; manure digging; maintaining the orchard pruning and grass cutting.
Spring/Summer:  Removing trees and wood from fields where hedges and coppicing took place; spreading farm yard manure on the fields; calving cows, lambing and ensuring health of newborn animals; looking after pigs, chickens and ducks; hay & silage making; Gardening: propagating seeds & chitting potatoes; digging and planting in the garden and poly-tunnels.
There are also vintage tractors which require care.
LOCAL & COMMUNITY INTERESTS
Living in a rural border area the Dolan's understand the value of community and how it keeps the area alive. They are connected to their community through the local primary school, through family and sport clubs.