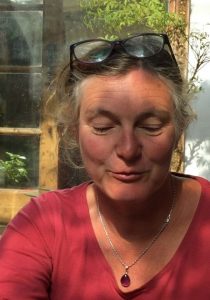 Name: Rose Minnema
Farm type: Horticulture, floriculture, woodland
ABOUT THE FARM HOLDING
This one acre shady cottage garden combines common and unusual plants, with many creative touches throughout, including contemplative places to sit and absorb the atmosphere. There is also a woodland area with a view over to Callow Lakes, fruit and vegetable areas and a small plant nursery.
Rose has a background in social care and horticulture and has done training in therapeutic gardening.  She is a passionate gardener with an interest on the connection of nature, plants and space with people.
Playing with those ideas here creates this place of beauty and harmony and gives Rose a great sense of pleasure which Rose likes to share with others.
A SOCIAL FARMING DAY
Garden maintenance such as weeding, pruning, sowing, cutting grass.
Food preparation (cakes, jams and dehydrated foods) and preparation of plant sale.
Help in production of small cement garden decorations.
DIY, such as repairing and making of wooden garden furniture.
LOCAL & COMMUNITY INTERESTS
Rose is very involved in supporting friends and neighbours on an individual basis in their houses.  She is also involved in the Drummartin country market where she sells garden produce and foods.
SOMETHING SPECIAL ABOUT THE FARM
Near the house is a big studio in which craftwork can be done such as creating small garden ornaments of cement. The garden is mainly organic and stimulates biodiversity.