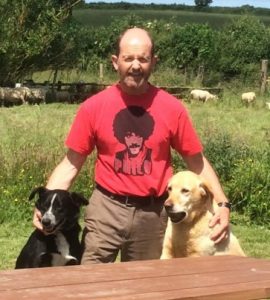 Name: Colm McGrath and Ruth Farrell
Farm Type: Livestock, forestry, horticulture
ABOUT THE FARM HOLDING
Colm's 158 acre farm has been in his family for three generations.  Much of the land is rented out but what remains is used for rearing high quality lamb that is sold directly to customers.  The farm also has an extensive forest of 40 acres with a roadway through it.  Colm and Ruth are currently in the process of establishing a vegetable garden that will supply the house.
Colm has spent time in the army and as a missionary. After returning to Ireland in 2004 he began giving walking tours with the local historical society.  He also runs a guest house on the farm.
Ruth is a qualified horticulturalist.  Her degree includes training in the field of Social and Therapeutic Horticulture and she has experience working with the local youth group through GIY.
A SOCIAL FARMING DAY
Animal care: caring for sheep and lambs: feeding, and general husbandry.
Forestry: collecting offcuts for disposal and stacking firewood, maintaining roadways and walkways.
Gardening: vegetable and herb sowing, transplanting, weeding, feeding and watering; fruit planting and harvesting.
LOCAL & COMMUNITY INTERESTS
Colm and Ruth enjoy attending shows at the Aby Mill Theatre, which is a beautifully restored old mill, which promotes local talent in drama and music.
SOMETHING SPECIAL ABOUT THE FARM
The farm was used as a keep fit club bootcamp for a local club between 2011-2016.  The core group that formed this club still get together on social occasions and still train and take part in fitness and adventure events.