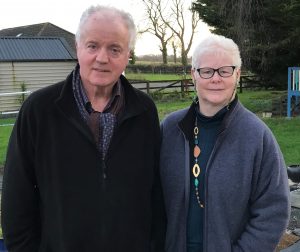 Name:  Owen & Patricia Smith
Farm Type: Organic horticulture and poultry
ABOUT THE FARM HOLDING
Owen and Patricia have a 62 acre holding of which they farm the two acres around their house.  They have a variety of different enterprises.  There are farm buildings and outhouses and two large poly-tunnels where the bulk of their horticulture enterprise takes place.
Organic vegetables, salads and flowers are propagated in one poly-tunnel then transferred to the second poly-tunnel or outside gardens.  Tomatoes, peppers, cucumbers, aubergines and sweetcorn are some of the crops.
The farm also boasts a developing orchard, a small scale poultry operation, a small flocks of hens, geese and ducks providing eggs for the house.  A dog and two cats are also a big part of the farm.
Both Owen and Patricia have a very long association in supporting people with disabilities across a range of services.
A SOCIAL FARMING DAY
Propagation, cultivation and harvesting of vegetables, flowers and fruit.
Preparation and composting of the garden and tunnels.
Helping to develop the outhouses into a carpentry workshop for the building of bat boxes, planters and bird feeding tables.
Helping to create areas for crafting, flower arranging and mosaic art.
LOCAL & COMMUNITY INTERESTS