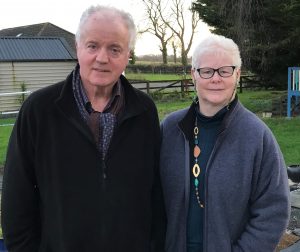 Name: Owen & Patricia Smith
Farm name: Mucklon Farm
Farm type: Horticulture, poultry
ABOUT THE FARM HOLDING
The Smith farm is a 62 acre holding most of which is currently rented.  They farm two acres around the house with a selection of different enterprises.  There are farm buildings and outhouses, and two large poly-tunnels where the bulk of their horticulture enterprise takes place.
Organic vegetables, salads and flowers are propagated in one poly-tunnel then transferred to the second poly-tunnel or outside gardens.  There are tomatoes, peppers, cucumbers, aubergines and sweetcorn are some of the crops.
The farm also boasts a developing orchard, a small scale poultry operation, a small flocks of hens, geese and ducks providing eggs for the house.  A dog and two cats are also a big part of the farm.
A SOCIAL FARMING DAY
Horitculture: propagation, cultivation and harvesting of vegetables, flowers and fruit; preparation and composting of the garden and tunnels.
Animal care: feeding the chickens and collecting the eggs.
Other activities: helping to create areas for crafting, flower arranging and mosaic art, building of bat boxes, planters and bird feeding tables and engaging in basic woodworking activities
LOCAL & COMMUNITY INTERESTS
Owen and Patricia are very engaged in the local market community and engage in the weekly farmers market.  Both active in supporting activities and events in the local community through their extended family.