Dunmore East, Co Waterford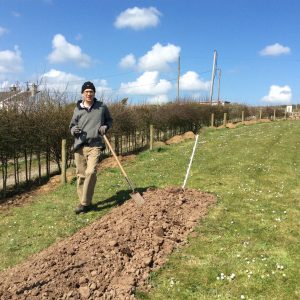 Name: John and Bridget Carney
Farm Type: Mixed smallholding, woodland
ABOUT THE FARM HOLDING
John and Bridget have a 40 acres seaside farm, with a small tree plantation.  They grow their own vegetables and keep cattle for 6 months in the summer to graze the fields.
They have owned the farm since 1981 and have enjoyed developing it while their children were growing up and now enjoy living in such a scenic spot.
A SOCIAL FARMING DAY
Gardening activities, including making new vegetable beds.
Cutting back briers and gorse on ditches.
Maintenance of coastal path on the land.
Foraging plants and seaweeds to make food and other products.
Looking after cattle grazing in the fields, maintaining fences.
Chopping and stacking wood.
Managing small woodland.
LOCAL & COMMUNITY INTERESTS
John and Bridget enjoy the walking path along cliff to Dunmore East from Portally and swimming in the summer in Portally Cove.