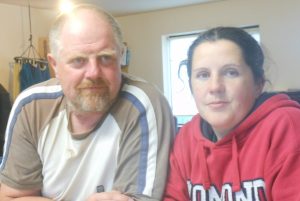 Name:  James Leahy and Emer O'Keefe
Farm Name: Hope Springs Farm
Farm Type: Suckler beef
ABOUT THE FARM HOLDING
James and Emer live on this busy farm with their four children. It is a hilly farm, and on a clear day you can from Youghal to Ballycotton from the top of the hills.  The farm is a suckler beef farm, where Aberdeen Angus (black) cows rear their calves for sale when the calves are over one year old. There are also hens, ducks, goats, pigs and dogs.
The farm is in a lovely location and is surrounded by Coillte forests, and because of this lots of wildlife can be seen daily on the farm, such as herds of wild deer, hares, hawks, pheasants, foxes and frogs.
There is also a kitchen garden where vegetables are grown for the family.
James and Emer appreciate the peace and tranquillity that working outdoors and working with animals brings to their family.
A SOCIAL FARMING DAY
Gardening:  tending the the vegetable garden: planting, weeding, watering, picking and eating vegetables when ready.
Animal Care: checking feeding, cleaning our housing, milking goats and collecting hen and duck eggs
Other activities: drawing in firewood to the garage, trips to the local Co-op in Tallow to stock up on animal feed and medicines.
Making goats cheese when there is enough milk!
LOCAL & COMMUNITY INTERESTS
Taking time off to go for a walk to the lake and holy well in the woods next to the farm.