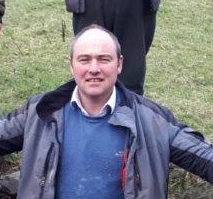 Name: Matthew McGreehan
Farm Name: Creag Ard Sheep Farm
Farm type: Sheep
ABOUT THE FARM HOLDING
Matthew is predominately a sheep farmer with a flock of 400.  The farm comprises of 70 acres of lowland and 80 acres of mountain commonage.   He breeds a horned black-face ewe which is suited to the hills.
There are several sheep dogs, hens, ducks, cows, a donkey, and a pig that also need feeding daily.  There are 2 farmyards and some small fields close by which can involve a short walk.   When weather permits during quieter times sheep fed and monitored by a cycle ride, at busy times a Jeep is used.
There are also 10 acres along the Cooley Coast which provide a scenic contrast from the mountain hillside.
A SOCIAL FARMING DAY
Daily activities include attending and feeding farm animals
Opening/closing gates, rounding up and loading sheep into pens for various handling activities and transportation
Annual activities include injecting ewes, cleaning wool, foot baths, marking fleeces, tagging lambs, cutting lambs tails, shearing sheep and rolling their fleeces, feeding pet lambs
Farm maintenance: piling and fencing, painting pilling posts, brushing yards
Cleaning out sheds; power washing machinery including tractor and sheds
Building and repairing stone walls
LOCAL & COMMUNITY INTERESTS
Matthew is actively involved with the Irish Farmers Association and has an interest in historical farming and in old field names and ways of prolonging our ancestral history.  As such he has restored old farm buildings to their previous glory, attended courses in genealogy, and built up a large collection of vintage farm machinery over the years.
SOMETHING SPECIAL ABOUT THE FARM
As a teenager Matthew became a farm worker for a neighbour's farm which he later inherited when the farmer required home care.  From this he developed an interest in the caring profession and became employed with the HSE as a home help aide and completed a FETAC course in health care.  Today the original homestead is still the centre of the farm and Matthew continues working to restore it to its original state.