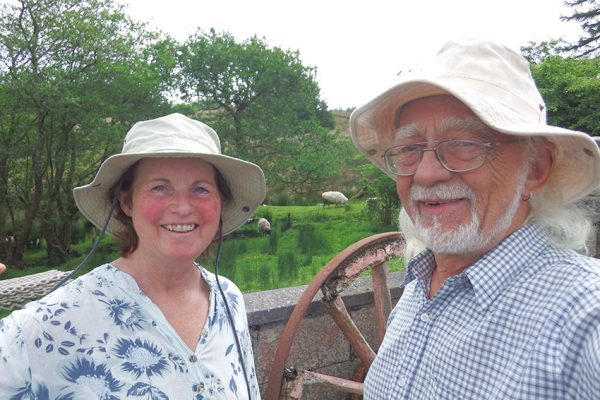 Name:
Adrianne Diamond & Graham Robertson
Farm Name:
Friendly Farm
Farm Type:
Mixed
ABOUT THE FARM HOLDING
Adrienne and Graham run a small rural farm containing 8 acres with chickens, donkeys, cats, dogs and some sheep.
The cottage and farm buildings sit on the side of a hill. From almost everywhere on the farm there are tremendous views and when the weather is kind it is a magic place; a place to connect with and work alongside nature, and of course come inside to the cosy cottage for some wholesome food and a cuppa. It is a quiet place but with the animals, there is always something going on, whether it is the cats eating from the same bowl as 'Chip' the dog or the chickens reminding you to feed them with the 'donkey' food – always something to smile at.
Adrienne and Graham have a 'creating workshop' in the top shed and like to make and recycle things using all types of materials (wood, metal and even wool!) Graham has a very productive polytunnel, which produces veg and salad for most of the year.
Adrienne and Graham are working with mental health services, disability services and early school leavers. With such diverse activities, this is a popular farm to visit.
A SOCIAL FARMING DAY
• Animal care, care of the donkeys, keeping their sheds clean, ensuring they have clean water, hay and food.
• Planting in the poly-tunnel – planning for the season, preparation, sowing and propagating, plant care, harvesting and eating the produce!
• Art, wood carving or photography, with a bit of inspiration from the farm.
• Singing and/or playing an instrument. Graham, who plays guitar and mandolin, loves to share his passion for music.
• Restoration and research of old farm tools and implements.
• Some days we may take a local trip to the garden centre.
LOCAL & COMMUNITY INTERESTS
Adrienne and Graham are both involved with tourist providers throughout the region.
OUR SOCIAL FARMING EXPERIENCE
"We have great fun with participants, and our neighbours and local community also get involved. They have integrated very well locally and are enjoying the experience. On our farm, we like to share our skills and allow people to learn and enjoy" – Adrienne and Graham