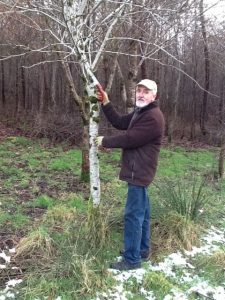 Name: John Normanly and Maria McDonnell
Farm Name: Hawthorne Farm
Farm type: Forestry, sheep, horticulture
ABOUT THE FARM HOLDING
Hawthorne Farm is in the Townland of Ballincurry situated between the towns of Tubbercurry and Curry in south county Sligo.
John and Marie have a mix of livestock and a 35 acre forest planted almost 20 years ago.  The forest has pathways laid out through and around it with special places to sit and connect with nature and self.  Working (and walking) in the woodland throughout the seasons is both rewarding and rejuvenating.   There is a small sheep flock on the farm  to help keep the grass eaten.
Vegetables are grown in an outdoor vegetable garden and a large patch down in the field.  They harvest from the garden and prepare healthy wholesome meals straight from the farm.  There is also a holiday cottage on the farm where visitors from around the world come to spend time locally and in the woodland.
There is also a small chicken flock for fresh eggs and along with the geese, the chickens help keep pests in check too!
A SOCIAL FARMING DAY
Gathering, stacking and moving sticks and logs to the wood stores.
Log-splitting and bagging
Turf saving on the bog and bringing home
Gardening:  planting, digging and harvesting
Feeding and caring for sheep
Feeding and caring for hens, ducks and geese, two dogs and a cat
LOCAL & COMMUNITY INTERESTS
Nearest Services:  5km to Tubbercurry, County Sligo
Nearest town: Tubbercurry, Sligo
Nearest public transport or rural transport initiative: Tubbercurry
OUR SOCIAL FARMING EXPERIENCE