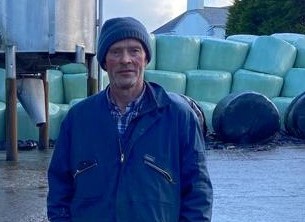 Name:
Alan & Vivian Woods
Farm type:
Dairy
ABOUT THE FARM HOLDING
Alan has been farming all his life. Along with 50 dairy cows, there are a small number of pedigree Charolais cattle and a few commercial cattle.  The farm is run by Alan and Vivian with help from their school-aged children.
The home farm is located along the beautiful Lough Conn. There are lovey walkways throughout running over the fields and towards the lakeshore.  It is a true nature reserve and the National Parks and Wildlife come on a weekly basis, keeping track of the flock of protected bird species and habitat.
Alan was runner-up in the prestigious BORD BIA – Origin Green awards in 2018.
A SOCIAL FARMING DAY
Animal care: counting cattle in the field, assisting the movement of cattle; bedding the smaller animals; feeding meal and silage.  Assisting with the milking in the parlour.
Farmyard activities: tidy and upkeep; walking the land and woodland areas to ensure fencing is in proper order
Other activities: traditional crafts, from harvest knots to Bridget crosses; baking bread, scones, and making soup. Reflection journaling, photography, and plenty of interesting historical books and photography
LOCAL & COMMUNITY INTERESTS
Vivian has been an active community member working alongside many community projects, local walks, festival events, and other community activities.  The family takes advantage of all their community has to offer including fishing, boating, mountain climbing, and walking in the local woodlands or on the marked looped walks