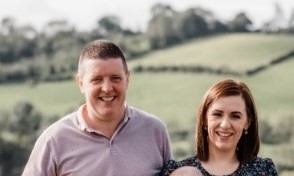 Name: John and Martina O'Reilly
Farm Name: Castletown Farm
Farm Type: Dairy & Poultry
About the Farm Holding
Castletown arm has been farmed by the O'Reilly family since the 1800's. The farmyard and house overlook a beautiful lake that is popular for fishing. The farm has over 200 acres of land, mostly surrounding the farmyard, and some on a nearby out farm. There are two poultry houses with 30,000 broiler chickens in each. The chickens are reared from day-old to 6 weeks and ready for the factory. John and Martina milk 90 dairy cows and have 150 other cattle including replacement heifers, heifer calves, and beef cattle.
John has been farming from a young age alongside his father on the family farm. John has a passion for rearing healthy, happy animals with little or no antibiotics. He also has a keen interest in using herbal and alternative medicines for both poultry and dairy animals on the farm and is hoping to complete a course in Homeopathy for Animals in the near future.  As part of the GLAS Scheme, they coppice trees in the wintertime. Other interests on the farm include sourcing machinery and livestock for customers all over the country. John enjoys the variety of daily activities on the farm all year round and also delights in seeing his children's interest in the farm continually growing.
Martina has a BA in Applied Social Care and many years of experience working with children with special needs in various settings. She is also a Relax Kids Coach and have delivered relaxation and mindfulness classes for children in both schools and private settings over the last few years. Matina has a keen interest in alternative therapies and promoting positive mental health.
A Social Farming Day
Animal Care: Feeding, counting, husbandry – Dairy cows, calves, cattle on out farm.
Poultry: Regular checks in houses for feed, water, bedding.
Nature walks: lakeshore, laneways and country roads.
Gardening: weeding, planting and general maintenance.
Cooking/meal preparation.
General household & farm activities: maintenance of outdoor fences & sheds, going to local shop/hardware store/post office/recycling centre
Local and Community Interests
Coothill is a small rural community where everyone is very friendly and helpful. Knockbride GAA Club is very strong from underage right up to senior level and the O'Reillys are keen supporters.
Both Martina and John like the simple things in life and love to spend time with their three children and extended family. Walks and picnics in some of local forests are enjoyed regularly, and they never pass an opportunity for tea and cake, be it to celebrate a birthday or a clear TB test!!