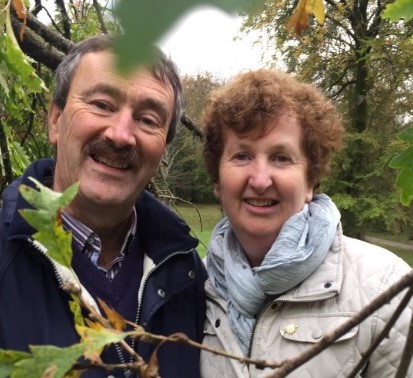 Name:
John & Maureen Blackwell
Farm Type:
Drystock, organic horticulture
ABOUT THE FARM HOLDING
John and Maureen run this 40-acre farm where they carry drystock and grow and sell hay.  The also have a poly-tunnel an orchard and outdoor raised beds where they grow organic vegetables and fruits for home use.  There is also an orchard, hens and a cat called Puddles and one Jack Russell called Nancy.
 A SOCIAL FARMING DAY
Animal care:  feeding, dosing and checking cattle's health (i.e. checking their eyes, checking them for lameness or any unusual lumps); collecting eggs from the hen house and refreshing straw.
Gardening: sowing seeds, potting up plants, looking after raised beds in the kitchen in the garden. Weeding and watering. Planting and potting up of flowers in beds and pots.
General farm maintenance: maintaining fences and boundaries; painting gates, splitting logs, strimming and grass cutting.
Other activities:  making raised beds or picnic tables, picking apples, maintaining and painting old farm machinery, baking and cooking, playing music or pool on a rainy day.
LOCAL & COMMUNITY INTERESTS
Maureen and John enjoy going to the local leisure centre to swim and use the gym.  They enjoy walking through Curragh Chase and on the Aughanish Nature Trail.