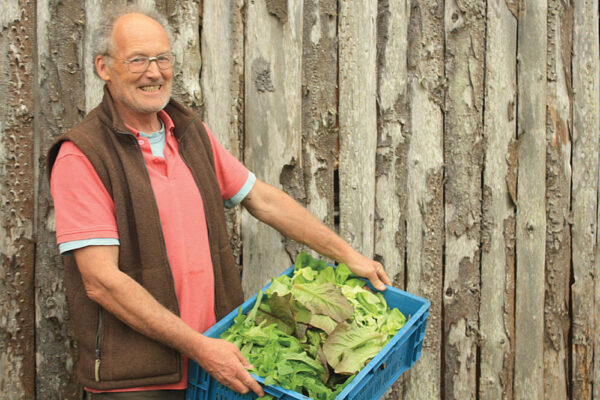 Name:
Aidan Gillan
Farm Name:
Tattie Hoaker Farm
Farmer type:
Organic horticulture
ABOUT THE FARM HOLDING
Tattie Hoaker farm is an organic farm, registered with the Irish Organic Farmers and Growers Association (IOFGA), located near Cliffoney on 6 1/2 half acres nestled 'between the mountains and the sea'.
Aidan grows a range of crops both outdoors and in poly-tunnels. A propagating poly-tunnel is used to raise seedlings for transplanting outside during the year. He also keeps a number of laying hens which make an important contribution to the homestead. This busy farm grows organic vegetables, salads and herb crops – including potatoes. These are packed on the farm and distributed to local shops, restaurants and individual customers.
The local bi-monthly community market in Cliffoney is an important social occasion. This local co-operative venture enables people to gather, sit and chat over a cup of tea or coffee every two weeks. The social gathering is just as important as the market – and it is not unusual for someone to bring an instrument and play a few tunes to add to the occasion.
Apart from farming here in Ireland Aidan has worked in community development and support roles both here and abroad. This has included running gardening and environmental care training programmes.
Aidan has been involved in social farming since 2018 and has had placements from mental health services.
A SOCIAL FARMING DAY
Field and poly-tunnel vegetable seed propagating, planting and harvesting.
Feeding chickens and collecting eggs.
Weighing, bagging and labelling vegetables for distribution locally including Cliffony Country Market every 2 weeks.
Transplanting young plants into field crops.
Maintenance tasks around the poly-tunnels and the grounds, footpaths and grass areas.
Construction of accessible pathways around the grounds and of seating benches.
LOCAL & COMMUNITY INTERESTS
Aiden actively promotes organic farming and healthy lifestyle in collaboration with Ballintrillick Environmental Group, eg. Healthy eating events.  He also attends a weekly local music group and is progressing on the tin whistle.
MY SOCIAL FARMING EXPERIENCE
"My experience social farming and with the participants has been one hundred percent positive. I really enjoy supporting our guests while they engage in farm activities and teaching them a bit about our enterprise. It's added a new dimension and purpose to my stewardship of the Tattie Hoaker farm". – Aiden Gillan